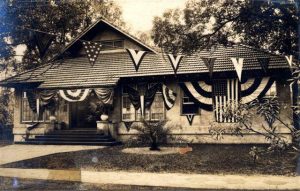 The GFWC Florida Federation of Women's Clubs, now in its second century of community service, traces its history to the community interest found in Florida women in the late 1890s and during 1900. In 1883 the Village Improvement Association of Green Cove Springs (FL) consisted of 18 women's groups. By 1891 the Housekeeper's Club of Coconut Grove had formed. It joined the General Federation of Women's Clubs (GFWC) in 1891, the first Florida club to do so. By 1900 several more women's clubs had been established across the state.
The woman who initiated the formation of the Florida Federation of Women's Clubs (FFWC) was Mrs. E. G. G. Munsell of New York and Green Cove Springs, Florida. Following the death of her husband she became involved in civic affairs and revived the dormant Village Civic Association.
Miss Penelope Borden, later Mrs. Penelope Borden Hamilton, was persuaded to head the reactivated association and invited members of other organizations to attend a meeting on February 21, 1895. Nineteen members from five clubs, Fairfield, Crescent City, Tarpon Springs, Orange City and Green Cove Springs, met with a committee that included Mrs. Munsell and organized the FFWC. Miss Borden was elected president, Mrs. Tibbetts was elected First Vice-President, and Mrs. N.C. Walmboldt was elected Second Vice-President. Although Mrs. Munsell was asked to serve as president several times, she always refused preferring to serve in other ways. Her continued work earned her the name, "Mother of the Federation."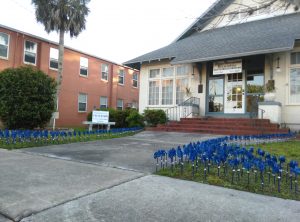 Today, as when we first were formed, we are committed to doing just what our name implies – improving our "village" which is our community and the people within that community.   Through our Community Service Programs (CSPs) which include Arts & Culture, Civic Engagement & Outreach, Education & Libraries, Environment and Health & Wellness.   
Some of the areas we serve are:
Clay High School
Green Cove Springs Jr. High School
Charles E. Bennett Elementary
Bannerman Learning Center
Habitat for Humanity
Quigley House
BASCA
Clay County Fair
Calavida Arts Festival
The Way Free Clinic
Green Cove Springs Food Pantry
Ronald McDonald House
Local Animal Shelters
KANS4K9S
Green Cove Sprimgs Police Dept.
Wreaths Across America
St. Johns River Clean-up
Clay Community Outreach
As you can see, we Live the Volunteer Spirit!
AND in addition to all that, we are a group of women with shared interests and concerns.  We enjoy being together and having food, friendship and fun!  Our members uplift and encourage one another, we share our joys and our sorrows…together.