You are invited and welcome to our monthly general meetings!
Come and see who we are and what we do.
Come as a guest and leave as a friend!

Each of our VIA members is expected to serve our community by taking part in club projects and fundraisers, attending club meetings and being a member of at least one of our Community Service Programs (CSP).  Get to know us first by attending at least one meeting.  A membership application is available to fill out on this website or they are available at the meetings.  Please bring completed application to the next monthly meeting or email to viagcs@gmail.com and then your dues can be collected. Or you may contact us for more information.


Our VIA general meetings are the 2nd Thursday of each month (unless otherwise notified)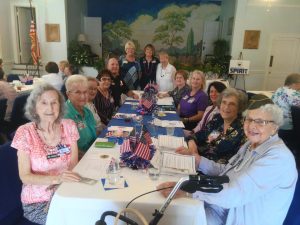 from September (Open House) through May. 
There are no general meetings in June, July and August.
We begin at 10 a.m. with a coffee, goodies and greeting time.
The meeting begins at 10:30 with a program that is themed around one of our service programs and can include guest speakers as well.  After that, our general meeting is conducted and if we are not too talkative, we should conclude around 11:30.
VIA Elected Officers for 2020 – 2021
Co-Presidents
Lucy Conrad
Pam Harris (Membership)
Recording Secretary
Terry Wilson
Corresponding Secretary
Lynn Elliott
Treasurer
Helen Devitto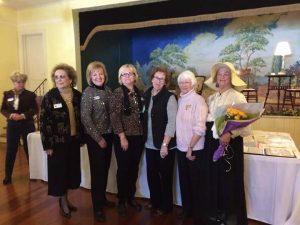 The General Federation of Women's Clubs unites the best and brightest of today's women into a strong coalition, nearly 80,000 strong, that promotes community improvement through volunteer service.  The many benefits of belonging to a GFWC woman's club include:
Strength in unity – GFWC members gain a stronger voice in shaping public issues through the combined efforts of women serving at the club, district, state, region and national levels.
Support and encouragement – GFWC offers members a network of women with similar interests and concerns.  Fun, fellowship, and lasting friendships are a big part of the GFWC experience.
Leadership training and professional development – Knowledge and experience gained through GFWC volunteer training and community service can help open career doors, enhance a resume, obtain academic credit, or build a new business.
A varied volunteer menu – GFWC offers many national resources to help clubs plan and create community service projects in the diverse area of Arts & Culture, Civic Engagement & Outreach, Education & Libraries, Environment, and Health & Wellness. GFWC also supports special programs that raise consciousness about domestic violence awareness and prevention and advocates for children.
Health and happiness – Studies show the personal satisfaction that comes from making a positive difference in their communities helps volunteers to live longer, function better, and have lower rates of depression.
GFWC clubs and clubwomen are the heart of not only the Federation, but the communities in which they live and work. By Living the Volunteer Spirit, GFWC clubwomen transform lives each day, not simply with monetary donations, but with hands-on tangible projects that provide immediate impact. With a grassroots approach that often thinks locally but impacts globally, GFWC, its clubs and members remain committed to serving as a force for global good, as it has done since its formation 130 years ago.