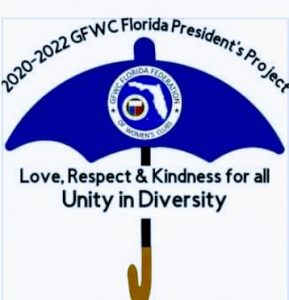 Our motto emphasizes our ability to use the diversity of our backgrounds to work toward a unified vision and purpose of enhancing our lives and the lives of those around us.
The VIA together with over 8,400 clubwomen across the state are promoting Unity in Diversity under the GFWC Florida Umbrella, with Love, Respect and Kindness for all.  In our community we will be asking what and who needs our help.  Our emphasis will be on all Special Needs.  We, here at the VIA, have a long-standing tradition of service to others and we will continue to work alongside our community agencies who also stand in the gap for those in need. 
Our VIA members will continue to share our passions for our ongoing projects and seek out new opportunities to share love, respect and kindness to all.